The U.S. and Canada have announced the Binational Electric Vehicle (EV) Corridor, a network of charging stations, including DC fast-chargers, from Kalamazoo, Michigan to Quebec City, Quebec to help travelers going between the two countries.
The corridor will feature charging stations about every 50 miles (80 kilometers), according to the U.S. Department of Transportation. The project is supported by the Bipartisan Infrastructure Law which on its own has allocated $7.5 billion in federal funding for a national network of 500,000 public EV chargers as well as the CHIPS Act and the Inflation Reduction Act in addition to about CA$1.2 billion in funding from Canada, CleanTechnica reported.
Canada and the United States have built the world s largest market-based energy trading relationship, which provides a firm foundation as we strive to reach net-zero greenhouse gas emissions, Canadian Minister of Transport Omar Alghabrasaid in a statement.
This first cross-border alternative fuel corridor will help drivers to travel across the border and charge or refuel worry-free. It contributes to bringing us another step closer to making our air cleaner while helping people save money on traditional fuels.
The corridor will include 215 charging stations, with 154 stations along highways from Toronto to Quebec City and 61 stations along highways from Detroit to Toronto. The stations will be within 6 kilometers (about 3.7 miles) of the highways to make them more convenient for travelers.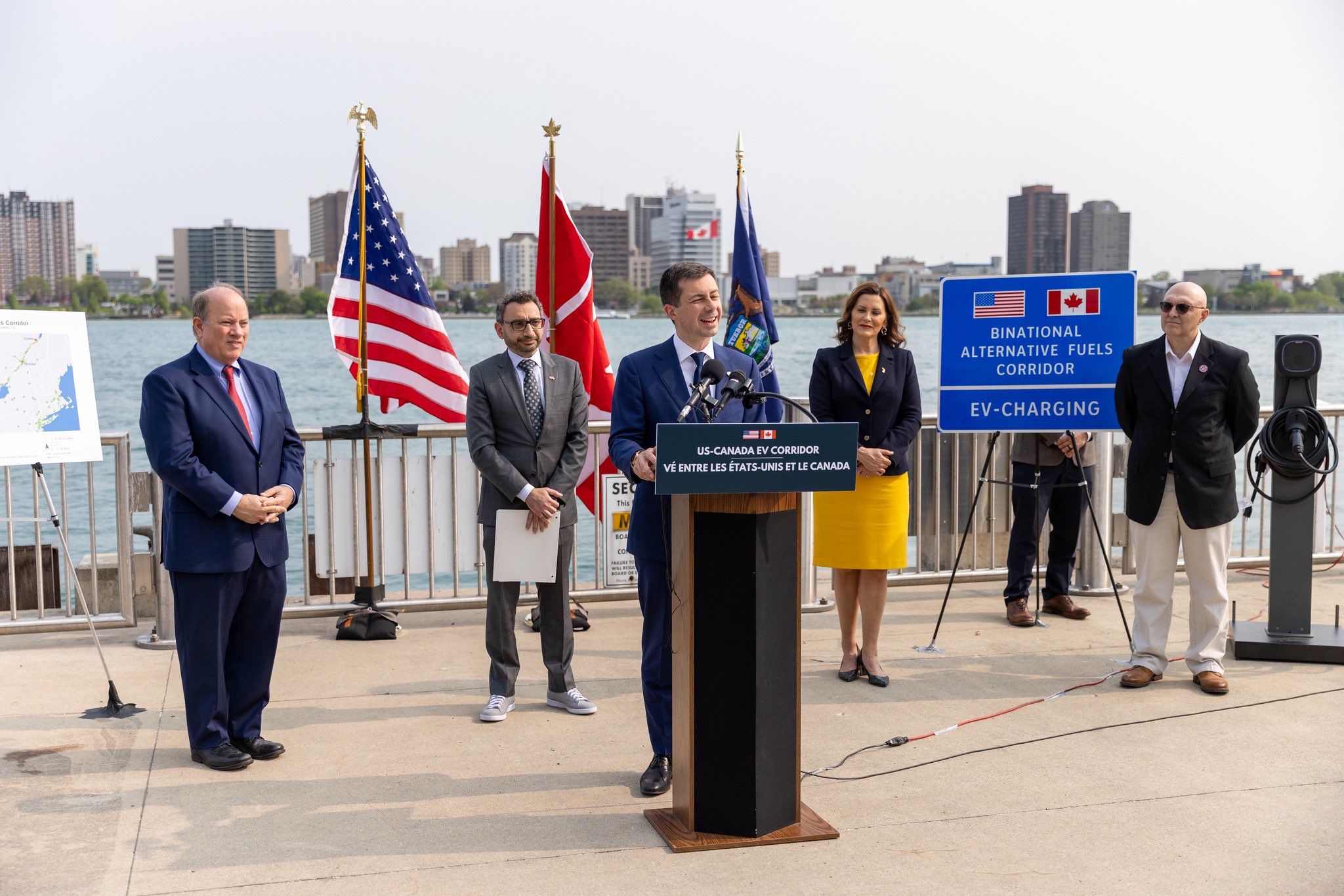 The EV charging network will be the first cross-border corridor of its kind, Michigan Governor Gretchen Whitmer said, as reported by Detroit News. But this is not Michigan s first collaborative charging network. It has also worked with other states to build a 1,100-mile circuit of EV charging stations around Lake Michigan.
The Binational EV Corridor is meant to help both nations boost jobs, strengthen supply chains, and further encourage the transition to electric vehicles. It will also help Canada reach its goal to reach net-zero emissions by 2050 as well as the U.S. goal for half of all new vehicle sales to be electric by 2030. In Canada, about 10% of new vehicles currently sold are electric.
Read More: The Biggest Polluters Are Linked to Worsening Wildfires in The Western U.S. and Canada
With historic investments in EV infrastructure from the Biden-Harris Administration and the Canadian government, we are creating a new generation of good-paying manufacturing jobs, making it possible for drivers everywhere to reap the benefits and savings of these vehicles while helping us fight climate change, U.S. Transportation Secretary Pete Buttigieg said.